How AI Will Shape the Future of SEO for Small Businesses
Artificial Intelligence or AI has many useful implications for Search Engine Optimization (SEO). With the development of AI-enabled tools, the future of SEO is not likely going to remain the same as it is today.
Small businesses will be armed with the power of AI to hyper-personalize the user experience and improve their SEO. They can effectively target the user search intent by providing intuitive and valuable content that ranks well.
Being an industry insider for many years, I have seen and closely analyzed various shifts in search engine optimization trends. And from my experience, AI in SEO is one of the trends that'll pave the way for new opportunities for small businesses to optimize and rank better.
Let us start with understanding what Artificial Intelligence SEO or AI-Powered SEO is all about.
What is Artificial Intelligence SEO?
Artificial Intelligence in SEO is still a fresh and vague concept even for many industry insiders. It's shrouded in mystery as many seem to believe AI SEO is only limited to upselling, personalization, data collection, content creation, etc.
However, AI is more characterized for smarter collecting, sorting, and processing of vast amounts of data.
AI SEO refers to using the capabilities of AI & Machine Learning to guide and optimize a web page or website to rank better and higher on the SERPs. From keyword research to content creation, SERP analysis, and optimization tips, AI would assist in much more ways.
Data analysis is an essential part of SEO improvement, which most SEO professionals are aware of. Since AI is better equipped to take actions based on the analyzed data, it may aid SEO experts to form an effective AI-enabled SEO strategy.
It requires minimal labor and technical expertise, making it flexible for small businesses to adopt AI into their search engine optimization strategies more efficiently.
Here's more on the role of AI in SEO:
Role of AI in Shaping the Future of SEO for Small Businesses
1. AI Tools for SEO Task Automation
Search engine optimization involves a lot of heavy lifting and hard work. It requires constant monitoring, tweaking, and testing of various SEO elements. Integrating the right AI SEO tools would help small businesses to get the most out of them and even automate certain tasks.
Tasks such as keyword research, getting SERP insights, topic idea clustering, content creation, researching relevant sites for link building, etc. can be easily tackled by AI-powered tools.
Here, are a few well known AI-powered tools that most likely strengthen the SEO automation for small businesses, that I suggest:
I've only listed a fraction of the number of AI SEO tools available in the market. A ton of others are under development and may get to see the light of the day when AI for SEO goes mainstream.
2. AI to Offer Dynamic Hyper-Personalization
Hyper-personalization is going a step above than just offering relevant content or product recommendations. If the powers of AI are truly utilized in the sense it has been created to, businesses can see a significant rise in their ROI. 70% of marketers have already agreed on seeing a 200% ROI after using advanced personalization tactics.
The machine learning arm of AI is better able at natural language processing, which enables businesses to comprehend the user needs. It sheds light on what content moves customers from one phase to another.
From nurturing at the top of the funnel to a dynamic landing page, cross-selling/upselling, and offering tailored experiences, hyper-personalized content helps users push further down the funnel.
The benefits of the same are higher CTR, engagement, page session, conversion, and reduced bounce rate — all of which contribute to boosting SEO.
3. AI to Revolutionize the Content Marketing
Content marketing is one of the best weapons in SEO's arsenal. A SEMrush study found that businesses grew their organic traffic by 3x and 1.5x by publishing 'Guide' and 'How-to' content articles respectively. AI will transform the content marketing landscape for the better.
The current AI and machine learning ecosystem may not be enough to create unique and meaningful content. However, researchers from Cornell University predicted that AI will write high school essays by 2026 and a bestselling book by 2049.
Another study by Gartner published on CMSWire found that by the end of 2022, 30% of digital content will be produced with the aid of AI.
However, the way we have been progressing, I think the day might come sooner than expected and a storm of content creation tools that capitalize on AI capabilities will soon be available. So, small businesses should be ready to adopt and integrate them into their SEO & content marketing strategy.
4. AI to Optimize Voice and Visual Searches
The world is steadily adapting to voice-activated devices and searches. With the introduction of smart assistants like Amazon Echo and Google Assistants, voice searches have soared high.
In a PwC study, 90% of those surveyed were aware of the voice assistants and 72% of them had used one of the voice-enabled smart devices. Another report by Statista forecasts that 75% of the households in the US will own at least one smart speaker by 2025.
Thanks to the advancements of AI's capabilities to process human interaction and natural languages, search engine optimization has been greatly influenced. The devices are more capable of speech recognition and interpreting long-form questions that users may throw at them.
Google along with other search engines greatly emphasizes voice search and their optimization. Ranking algorithms are evolving and amended to make place for voice results. Moreover, Google's RankBrain AI-based algorithm is being reformed to recognize the words and phrases to present better-predicted outcomes.
Another arm AI can impact for great SEO is utilizing visual stories and search features. Here's an example of visual stories: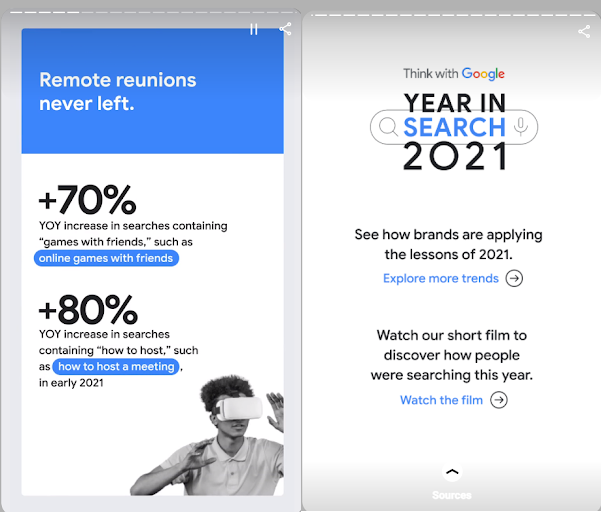 Usually, such visual stories appear on the Google news feed of Android smart devices. Since its introduction, visual stories have become an integral part of Google's news feed. Since Rankbrain works on AI, Google will personalize the visual stories that appear on the individual user's devices.
This presents small businesses another opportunity to get in front of their audiences to boost the engagement and SEO metrics of their website.
5. AI for SERP Data Analysis and Performance Tracking
For a long time, understanding Google's ranking factors and SERP data has been one of the biggest challenges most SEO professionals had to face. Even after being in the industry for many years, many SEOs have not perfected their craft to understand the ranking factors.
But AI and Big Data have come to the rescue to help SEO experts gain more insights into SERP data and Google ranking algorithms. These insights are key to making smarter optimization decisions.
Businesses can utilize open-source AI-enabled software and SEO tools that offer the most accurate, comprehensive, and cohesive dataset. They can even use such tools and datasets to track and understand the SEO performance of their website with more granularity.
Conclusion
Marketers and SEO professionals have already started tapping into the potential of AI in solving a wide array of SEO problems. Thanks to the incarnation of many AI-based SaaS SEO tools, small businesses are set to gain the upper hand if adopted and integrated rightly.
Although AI may never be able to replace the manual effort for search engine optimization for at least the foreseeable future, it'll be vital for small businesses to cornerstone the success of SEO campaigns.
The post How AI Will Shape the Future of SEO for Small Businesses appeared first on SiteProNews.
Disclosure: We are a professional review site that receives compensation from the companies whose products we review. We are independently owned and we have spent time and effort doing our best to offer you the most relevant and accurate information. All the "customer reviews" are posted by real webmasters (hosting customers) and we're not responsable for their opinions. Purchasing any service from the hosting companies listed on our site is your solely decision.
Statistics Panel
| | | | |
| --- | --- | --- | --- |
| Stats Panel | Last 24h | Last Month | Total |
| Articles | 0 | 108 | 2613 |
| News | 20 | 459 | 6976 |
| Hosting Sites | 0 | 26 | 2354 |
| Reviews | 0 | 13 | 987 |
| Coupons | 0 | 0 | 561 |
Categories
Follow Us
Top Rated Sites
Recently Added Web Hosts