Mobile Apps: Empowering Smaller E-Commerce Businesses To Go Head-On With the Big Players
Guess what this is?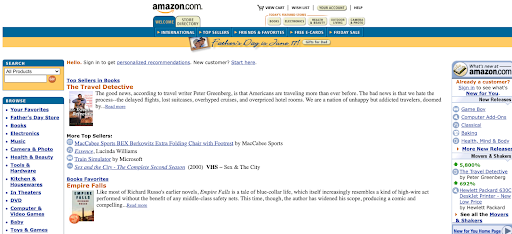 This is nothing but the popular Amazon.com in its youthful days. Back then, you could only add a product to a cart and pay for them online.
Today Amazon, or for that matter, any e-commerce store, is no longer just a place to sell goods over the internet.
The infusion of technologies and concepts like artificial intelligence, augmented reality, mobile apps, drones has converted e-commerce into a 'holistic shopping ecosystem'. People can now try products, visualize them at their homes, buy them anytime, anywhere from any device of their choice and get them delivered in a few hours.
Of all the technologies that transformed the world of e-commerce, the revolution of no-code/low-code platforms like Shopify particularly stood out because it democratized e-commerce. E-commerce was no longer restricted to the Goliaths and Atlases of e-commerce. Even smaller businesses could start selling now with minimal resources.
Though no-code/low-code platforms initially focused on building web-based applications, the need for something more user-friendly and something more business-friendly was always hovering around the e-commerce ecosystem.
That's when mobile apps entered into the picture. No-code/low-code platforms like Vajro focused on helping small e-commerce businesses to build a mobile app in less than an hour with zero programming knowledge. This changed the e-commerce landscape forever.
Let us now dive a little deeper and understand how mobile apps are actually empowering smaller e-commerce businesses to not just survive but also compete in this red ocean.
Easy to Communicate Anytime With Users
Marketing has always been an Achilles' heel for smaller businesses. They do not have the luxury of money or resources to go big on attracting users. On the other side of the spectrum, you have email marketing. Though it is inexpensive, it has the issue of deliverability. Most promotional emails often land up in the spam folder and are ignored by users.
With mobile apps, small e-commerce business owners have the privilege of embracing push notifications to communicate with customers. The information is delivered instantly on the users' smartphones. They are non-intrusive and highly effective. A study shows that push notifications have a click rate of 67.5%. This made effective marketing easier for the business owners.
Apps built using platforms like Vajro let you create, schedule, and manage push notifications with ease. You also get the option of embedding images, GIFs, and videos in your push notifications to communicate better with the audience.
Access to Deeper Customer Data
Customer engagement is the lifeblood of e-commerce. By using a mobile app, small e-commerce business owners got access to data such as location and devices, which was earlier restricted to only the biggies who could invest in powerful analytics engines. With mobile apps, small businesses could send tailored and relevant marketing messages to the right people.
For example, before the advent of mobile apps or smartphones, it was not possible to offer customers personalized offers and content based on their location. But now, one can effortlessly identify the accurate location of the users who have downloaded the app and offer tailored promotions. This greatly increased Customer Lifetime Value.
Increased Brand Recognition
A mobile eCommerce app gives tremendous brand visibility to the small players. Since it is always present on the customers' smartphones, the chances of them viewing your app every day at least once are high. Also, when they offer unique features exclusively on the app and send regular push notifications, the brand recall value multiplies significantly.
Enhanced Security 
With the rise in e-commerce and the number of online shoppers, the count of payment frauds increased. Today we constantly hear news about credit card data fraud and hacking incidents compromising the financial safety of users. This made many shoppers shy away from visiting and purchasing from the e-commerce sites of smaller businesses, fearing the possibility of hacking.
With mobile apps coming into the picture, the number of such negative incidents reduced drastically as smartphones and apps offer an additional layer of security such as biometrics. The concept of e-wallets also reduced the chances of payment fraud. All these brought back the trust levels that people had in smaller e-commerce businesses.
The Possibility to Go Omnichannel and Target the 'Non-Computer Shoppers'
There is a tectonic shift in the way people shop today. They want to browse in one channel and purchase from another. Being present in multiple channels was never easy for smaller e-commerce businesses previously. In fact, there was a time when smaller businesses could not tap into those users who didn't have a desktop or a laptop to shop. This was a major drawback.
But with the advent of mobile apps, smaller businesses could not only tap into those users who did not have computers but could even capture those who yearned for an omnichannel experience.
Final Thoughts
The revolutionary forces of the past two decades: digitization, the internet, and smartphones are rapidly shaping the retail industry. Unfortunately, small retailers often lack the financial firepower or technical prowess to take advantage of them. However, with no-code platforms like Vajro, the status quo has changed. Every small business can build native iOS and android apps for their store in as little time as 60 minutes.
Just like how Shopify democratized eCommerce, Vajro has democratized Commerce, empowering small businesses to take advantage of the growing mobile-first user base.
The post Mobile Apps: Empowering Smaller E-Commerce Businesses To Go Head-On With the Big Players appeared first on SiteProNews.
Disclosure: We are a professional review site that receives compensation from the companies whose products we review. We are independently owned and we have spent time and effort doing our best to offer you the most relevant and accurate information. All the "customer reviews" are posted by real webmasters (hosting customers) and we're not responsable for their opinions. Purchasing any service from the hosting companies listed on our site is your solely decision.
Statistics Panel
| | | | |
| --- | --- | --- | --- |
| Stats Panel | Last 24h | Last Month | Total |
| Articles | 0 | 108 | 2613 |
| News | 20 | 459 | 6976 |
| Hosting Sites | 0 | 26 | 2354 |
| Reviews | 0 | 13 | 987 |
| Coupons | 0 | 0 | 561 |
Categories
Follow Us
Top Rated Sites
Recently Added Web Hosts