GigaPros
Address: 65 Pine Ave, Suite 216
Long Beach
Los Angeles CA 90802
United States
Phone:1-877-PRO-GIGA
Fax:1-877-PRO-GIGA
GigaPros provides rock-solid web hosting with Zero Overselling Enforced. You'll enjoy 24x7x365 sup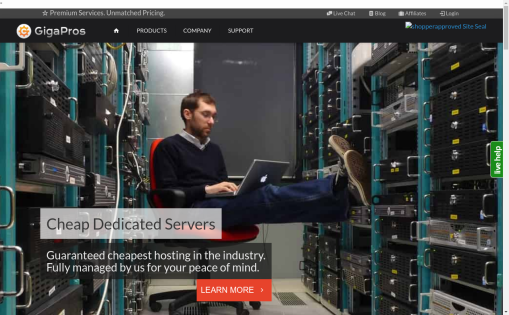 port with 30 minutes ticket response time + LIVE CHAT + LIVE PHONE! At GigaPros, you EXACTLY get what you pay for... No excuses, no gimmicks, no lying.
Shared Hosting starting at $10.00/mo
Fast & secure platform to host personal and professional websites, which are not business critical in nature. For business critical sites, try our Business plan.
Reseller Hosting starting at $30.00/mo
Professional Reseller Earn big money by starting your own web hosting business today. Resell our white label web hosting to your own clients for their personal and professional websites. Our reseller platform is fully hacker protected and comes with 24x7 support for your end-clients!
VPS Hosting starting at $20.00/mo
1 Core 1 GB 30 GB 1 TB 1 Gbit / sec
Dedicated Servers starting at $39.00/mo
Dedicated Server We offer affordable dedicated server hosting, along with full server management by our in-house 24/7 expert support team. Our data centers are located across USA and Europe, with redundant power backups and premium bandwidth.