GoWebz LLC
Address: 2500 Knights Rd
Bensalem PA 19020
United States
Phone:+12158979089
Fax:N/A
GoWebz LLC Scale and High-Grade range are our latest and most powerful bare metal ranges to date aimed to provide top-of-the-line performance, high capacity bandwidth, and availability in order to address the needs of large organizations with high resources usage and mission-critical workloads. Data burn to form the Netherlands.
https://gowebz.net
Manage Your VPS 24/7
We have integrated an amazing control panel for all your servers!
- Unlimited OS reinstallations
- Choose from 12 different OS
- Unlimited server hostname changes
- Ability to change your server password
- Power on, power off, and restart functions
- Ability to configure Reverse DNS for your VPS
- Ability to always access your servers through our VNC HTML5 client
- No need to wait for staff to help you out, you got full control, at any time!
- VPS servers are ready in a couple of minutes after receiving the payment!
1.) Normal delivery time of servers: 15 mins to 8H ( do not contact us before 24H, we don't have time to argue with anyone on this. )
2 ) This is a "not bulletproof" Server and so we don't allow any kind of Botnets, Scanners, Spammers, Phishing, or DDoS.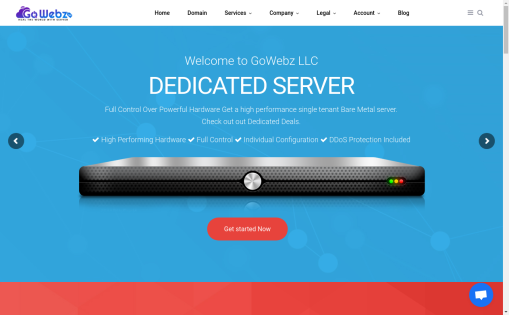 VPS Hosting starting at $15.30/mo
Manage Your VPS 24/7 ✓ Unlimited OS reinstallations ✓ Choose from 10 different OS ✓ Unlimited server hostname changes ✓ Ability to change your server password ✓ Power on, power off and restart functions ✓ Ability to configure Reverse DNS for your VPS ✓ Ability to always access your servers through our VNC HTML5 client ✓ No need to wait for staff to help you out, you got full control, at any time! Starting $15.30 /mo
Dedicated Servers starting at $51.10/mo
Dedicated Server Gowebz Dedicated Server GoWebz.Net offers top-brand dedicated servers. Fully customizable. Deployed in company-owned data centers in the Netherlands. All dedicated servers benefit from our high bandwidth 10 Tbit/s network and >1 Tbit/s DDoS mitigation capacity. Guaranteed speeds and 40 Gbit/s Anti-DDoS as standard. Starting $51.10/Mo