Netiyi
Netiyi Telekomünikasyon Ä°nt. Bil. Hiz. Tic. San. Ltd. Åžti
Address: Dere Mah. Kocacık Çarşısı Cavit Öztürk Cad. Kat:2 No:4 Merkez / Amasya
Amasya 05000
Turkey
Phone:0850 455 12 94 Fax:N/A
Netiyi Telekomünikasyon Ä°nt. Bil. Hiz. Tic. San. Ltd. Åžti 2014 Yılının Ocak ayında faaliyetine, Sunucu Barındırma, Sunucu Kiralama, Paylaşımlı Sunucu, Cloud Sunucu, Web Hosting, Bayi Hosting, Alan Adı Tescil hizmetleri ile baÅŸlamıştır.
Aynı anda Türk Telekom, Superonline ve Cogent yedekli fiber baÄŸlantıları, SoÄŸutma ve iklimlendirme sistemleri ile Türkiyenin önde gelen verimerkezlerinden birine sahip Netiyi Telekom %99.9 eriÅŸim sürekliliÄŸi saÄŸlamaktadır.
Kendini sürekli geliÅŸtiren ve herzaman en iyi donanım tercihleri yapan Netiyi Telekom, network donanımlarında, Juniper, Cisco, Dell marka ürünleri tercih etmektedir. Donanımlar eriÅŸim sürekliliÄŸi için yedekli config'ler ile çalışmaktadır.
Deneyimli teknik personelimiz, network grafiklerini 7/24 saat monitörize ederek olası problemler minimum seviyeye indirilmektedir. Tüm ürünlerde trafik ve kaynak kullanımlarının takibini yapabileceÄŸiniz geliÅŸmiÅŸ kontrol paneli ile sizlere kolaylığı sunmaktadır.
Netiyi Telekom bünyesinde sanallaÅŸtırılan sunucu donanımlarında, Dell R720, Dell R710, Dell R420 sunucular tercih edilerek, sanallaÅŸtırma yapısında raid10, raid50 mimarisi kullanılmıştır, aynı anda yedekli olarak çalışan disk mimarisi sizlere güvenliÄŸi saÄŸlamaktadır.
7/24 saat boyunca gerek telefon, gerek ticket sistemi üzerinden ulaÅŸabileceÄŸiniz deneyimli teknik ekibimiz, sizlere yardımcı olmak için hazır beklemektedir.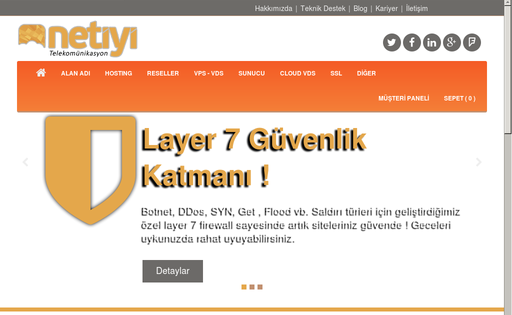 Disclosure: We are a professional review site that receives compensation from the companies whose products we review. We are independently owned and we have spent time and effort doing our best to offer you the most relevant and accurate information. All the "customer reviews" are posted by real webmasters (hosting customers) and we're not responsable for their opinions. Purchasing any service from the hosting companies listed on our site is your solely decision.
Statistics Panel
| | | | |
| --- | --- | --- | --- |
| Stats Panel | Last 24h | Last Month | Total |
| Articles | 1 | 129 | 4410 |
| News | 20 | 627 | 14186 |
| Hosting Sites | 0 | 2 | 2441 |
| Reviews | 0 | 30 | 1540 |
| Coupons | 0 | 0 | 561 |
Categories
Follow Us
Top Rated Sites
Recently Added Web Hosts